"a duo to be discovered,
sometimes ironical and cheerful,
sometimes hypnotic and dreamy,
overwhelming and restless at times,
always unique and original."
Vibrarpa is a unique duo of harp and vibes (with Marco Bianchi).
Original compositions with  a very special artistic style,  resulting from Marco and Raoul's personal artistic paths. Irregular musical forms and odd rhythms live beside flowing melodies and sharp harmonies.
The debut of Vibrarpa – a unique duo all around the world- took place in June 2002 with the Album "Scianti". Here they perform personal arrangements of pieces from different sources (from classical to contemporary music, from jazz to pop). Vibrarpa invented a duo and a repertoire still today imitated.  The sound of the duo was entirely surprising and they began two years of intense concert activity: they were invited to perform at international festivals and musical seasons where they received excellent public and critical response. In the meantime they searched for a more jazzy atmosphere and a more pronounced rhythmical component. Later they decided to pause for reflection in order to develop some other personal projects: especially in the jazz field for Marco and in the fields of electro-acoustic and theatre for Raoul.  Among their many admirers was the harpist Vincenzo Zitello, who wrote the piece "Dragon Fly" for their debut, and invited them in August 2010 to the Harp Festival in Viggiano, the italian town of the harp , to present their new work, called "99%" , edited and published by Creighton Collection and presented in WHC in Hong Kong.
They worked also for the incidental music of the theatre production "Dio galleggia in acque internazionali" by Torre Rotonda Company/AttivaMente of Como.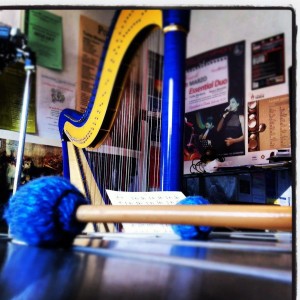 Vibrarpa è un duo unico di arpa e vibrafono con Marco Bianchi, con un repertorio di composizioni originali, risultato dei percorsi artistici personali di Raoul e Marco, in cui forme musicali destrutturate e tempi dispari trovano spazio a fianco a melodie fluenti e strutture armoniche ben definite. Vibrarpa è la prima formazione in Italia ed una delle poche al mondo ad unire i timbri di arpa e vibrafono in una costante ricerca di un linguaggio consono ed un repertorio specifico.
Nel giugno 2002 avviene il debutto ufficiale con il cd "Scianti" in cui elaborano in personali arrangiamenti brani di provenienza eterogenea (dalla classica alla contemporanea, dal jazz al pop), presentato al Festival Internazionale delle Arpe ideato dal compianto Pepi Morgia. Le prime esecuzioni di brani come Dragon Fly e Sogni Gaelici, gli arrangiamenti di brani come le Gymopedie di Satie o le Children Songs di Corea o di alcuni standards aprono una strada nell'inventare un repertorio per questo duo ancora oggi percorsa e imitata da altre formazioni simili. L'impatto timbrico del duo è assolutamente sorprendente e iniziano così tre anni di intensissima attività concertistica: vengono invitati ad esibirsi in festivals internazionali e rassegne musicali con ottimi consensi di pubblico e critica, sviluppando una direzione dalle atmosfere più "jazzate" e con una componente ritmica più pronunciata.
Di comune accordo poi si prendono una pausa di riflessione per sviluppare altri progetti personali, soprattutto nell'ambito jazzistico per Marco e nell'ambito elettro-acustico , pop e teatrale per Raoul. Il ritorno nel 2010 con il nuovo progetto, chiamato "99%", presentato alla rassegna Internazionale dedicata all'arpa a VIggiano, invitati da un loro grande estimatore Vincenzo Zitello. 
Nel 2012 inoltre compongono le musiche di scena dello spettacolo "Dio Galleggia in Acque Internazionali" della Residenza Teatrale Torre Rotonda e conducono la trasmissione radiofonica "Creattivo", da loro ideata, sulla radio locale Ciao Como Radio. Nel 2013 realizzano il secondo cd "99% A-live on a snowing day", che contiene tutte le nuove composizioni originali registrate dal vivo.   Le partiture di 99% sono edite e pubblicate da Creighton Collection e presentate al WHC17 di Hong Kong.