His Solo projects are mainly played with electroharp with live electronics, since 25 years he started a research on this instrument, developing technique, sounds and composing.
Travelling Colours – for Electroharp. Live electronics & Visual
On a background visual made "on the road" across dreamlike landscapes with continuous chromatic changes we dip in a sensorial experience with the performance of the Swiss-Italian Raoul Moretti who lead us with his electroharp, loop and electronics through the compositions of his repertoire from his four soloist albums, played all along around 55 minutes, without breaks.
Sullo sfondo di un video in soggettiva "on the road" attraverso paesaggi che diventano onirici in un flusso ininterrotto di cambiamenti cromatici ci si immerge in una esperienza sensoriale con la performance dell'arpista italo-svizzero Raoul Moretti che con l'utilizzo della sua arpa elettrica, loop ed elettronica ci guida senza soluzione di continuità per circa 55 minuti attraverso i brani del suo repertorio tratto dai suoi quattro lavori discografici solistici.
Harpscapes – for Electroharp, Live Electronics & Interactive Visuals
Since 2014 played in over 20 Countries. See the page.
Dal 2014 suonato in più di 20 Paesi. Per informazioni visita la pagina.
BotanicArp – For Electroharp, Live Electronics
The version of the concert thought for open air event. An immersive concert in nature places, with lights and projections on the trees. This kind of events are thought to be sustainable, with a campaign of awareness to these themes and actions that can be done in collaboration with the AWorld Team, the official App for Onu's Act Now campaign.
La versione del concerto pensata per spazi all'aperto. Un concerto immerso nella natura, con luci e proiezioni sugli alberi. Questo tipo di evento è pensato per essere sostenibile, promuovendo la sensibilizzazione su queste tematiche con una serie di azioni pensate in collaborazione con il team di Aworld, la App ufficiale della campagna Act Now delle Nazioni Unite.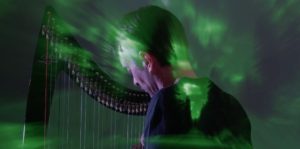 Temporary Exhibition
A concert for lever harp. As in a Gallery, a collections of compositions originally composed for this kind of harp, with different styles and sometimes changing between a concert and the other, among authors, colleagues and friends like Andres, Henson-Conant, Guzman, Trouillaud, Einaudi, Garella, Zitello and own compositions.
Un Concerto per Lever harp. Come in una galleria d'arte, una collezione di composizioni originali specifiche per questo strumento di diversi stili e provenienze. Un programma in costante evoluzione, come le Mostre temporanee, con autori , colleghi ed amici quali Andres, Henson-Conant, Guzman, Trouillaud,  Einaudi, Garella, Zitello e proprie composizioni.
Watch the streaming of the concert here.
Made in Italy
For pedal harp. with original composition for harp of authors of the last 20 years, between neotonalism, minimalism and other influence. Some inedited music composed for Moretti by the authors. Composers: Palermo, Sorrentino, Podio, Garella, Ottomano, Biscione, Einaudi, Coggiola.
Un Concerto per Pedal Harp. Con composizioni originali per arpa di autori dell'ultimo ventennio, spaziando dal neotonalismo al minimalismo ad altre influenze. Alcuni brani sono stati composti dagli autori per Moretti stesso. Autori: Palermo, Sorrentino, Podio, Garella, Ottomano, Biscione, Einaudi, Coggiola.