Essential Duo : an expressive voice finding support and impulse in the forty-seven vibrant chords of a harp which transforms and reinvents itself.  The essence of this project is enfolded in enchanting "pop-rock" covers, clothed as a tailor would dress the woman he loves, together with some new pieces of delicate splendor.
The Duo with the singer Tullia Barbera played in the most famous hotels and resorts as well as for  the most important fashion, taste and design events in Italy, for the International Harp Festival "Suoni d'Arpa" in Salsomaggiore Terme, "In Arpa" in Taggia and "Rassegna dell'arpa" in Viggiano; they also played in Switzerland and in Shanghai-China, representing officially Italy and his tradition. They published for Preludio Label the album "la Collina dei Sogni", with 11 covers and 4 original songs in Italian. In 2015 was one of the eight finalist, selected among 4000, of the contest "Capitalent" on Radio Capital, with their cover of "Sweet Dreams" by Eurithmics. The famous American webzine Nonhollywood included their version of "Everybody hurts" among the 50 best anytime covers of a song by R.E.M.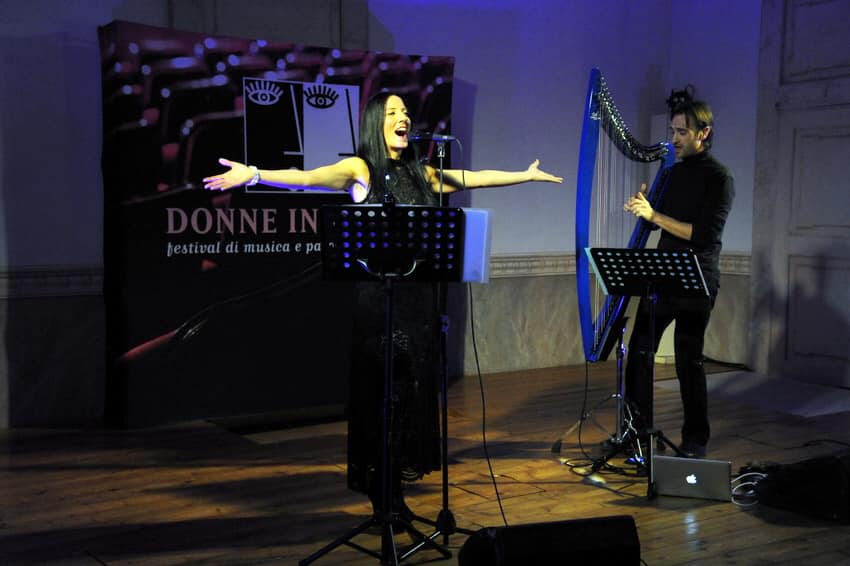 Una voce emozionante che trova appoggi e slanci tra le quarantasette corde vibranti di un'arpa che sa trasformarsi e reinventarsi. L'anima del loro progetto è racchiusa in incantevoli cover "pop-rock" rivestite come un sarto vestirebbe la sua amata e brani inediti di delicato splendore.
Il duo con la cantante Tullia Barbera ha suonato nelle più prestigiose locations, dai più famosi hotel e resorts ai più importanti eventi di moda, cibo e design in Italia. Ha partecipato ai Festival Internazionali Suoni D'arpa di Salsomaggiore Terme, TaggiaInArpa e Rassegna dell'Arpa di Viggiano. Ha suonato inoltre in Svizzera e a Shanghai-Cina, rappresentando ufficialmente l'Italia e le sue eccellenze in una serie di eventi. Ha pubblicato per Preludio Label il cd "la collina dei sogni", contenente undici cover e quattro inediti in lingua italiana. Nel 2015 è stato uno degli otto finalisti, selezionati tra 4000 proposte, al contest Capitalent di Radio Capital, con la loro versione di Sweet Dreams degli Eurithmics. La famosa webzine americana Nonhollywood ha incluso la versione di Everybody hurts tra le 50 migliori cover di tutti i tempi di una canzone dei R.E.M.

Click here for more Info.